'Soul Calling: A Photographic Journey Through the Hmong Diaspora' was published in 2012 by Heyday. The book has been out-of-print since 2020 and can only be found online or at second-hand bookstores, usually in poor condition. Excluding library copies, only an estimated 900 copies are thought to remain in circulation.
The signed copies we sell are in brand new condition and have never belonged to anyone else. They have been stored in total darkness and low humidity to preserve their vivid colors.
Soul Calling BOOK, signed by Joel Pickford:  $90
Price includes FREE U.S. Shipping!
To order a copy or ask questions, just send us a message through the contact form on this website. We accept several forms of electronic and traditional payment.
Scroll down to view photos of the book and learn more about it.
From the Publisher:  AN INTIMATE LOOK INTO THE WORLD OF THE HMONG
"The result of five years of courageous and heartfelt commitment, Soul Calling opens our eyes to the beauty, resilience and daily lives of the Hmong people, so recently displaced from their traditional homeland by the traumas of the Vietnam War."
"From the rice harvests and funerals of remote Hmong villages in the mountains of Laos to the shamanic ceremonies and overflowing apartment-complex vegetable gardens of Hmong Americans living in Fresno, writer and photographer Joel Pickford leads us into a world of deep-rooted custom and the harsh realities of cultural adaptation. His exquisite photographs and intimate stories take us into living rooms and through the memories of a remarkable people."
2012, Heyday, 256 pages, 200 color photographs, with a forward by Kao Kalia Yang, hardcover with dust jacket
Soul Calling was a finalist for the 2012 Northern California Book Award in Creative Nonfiction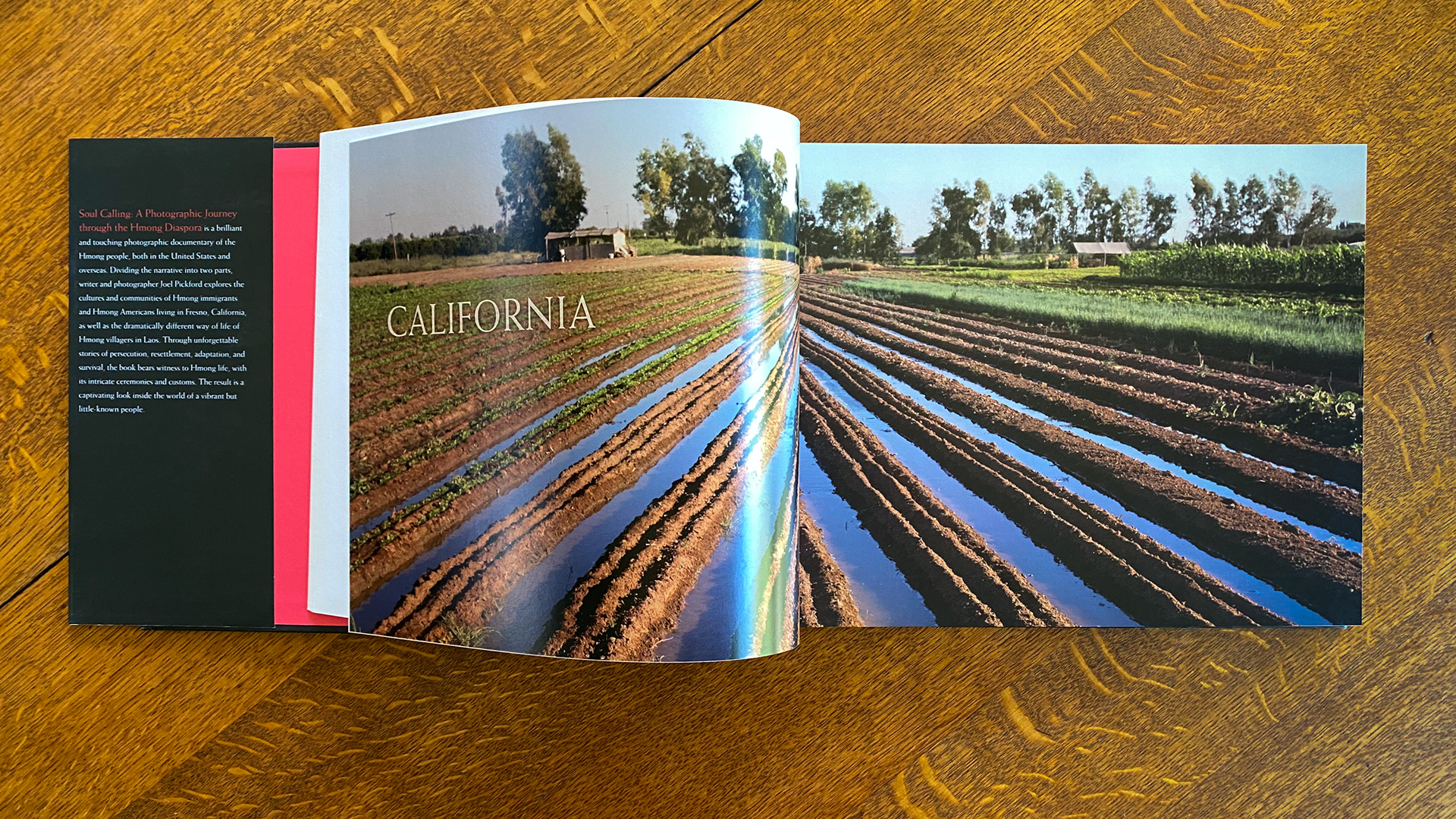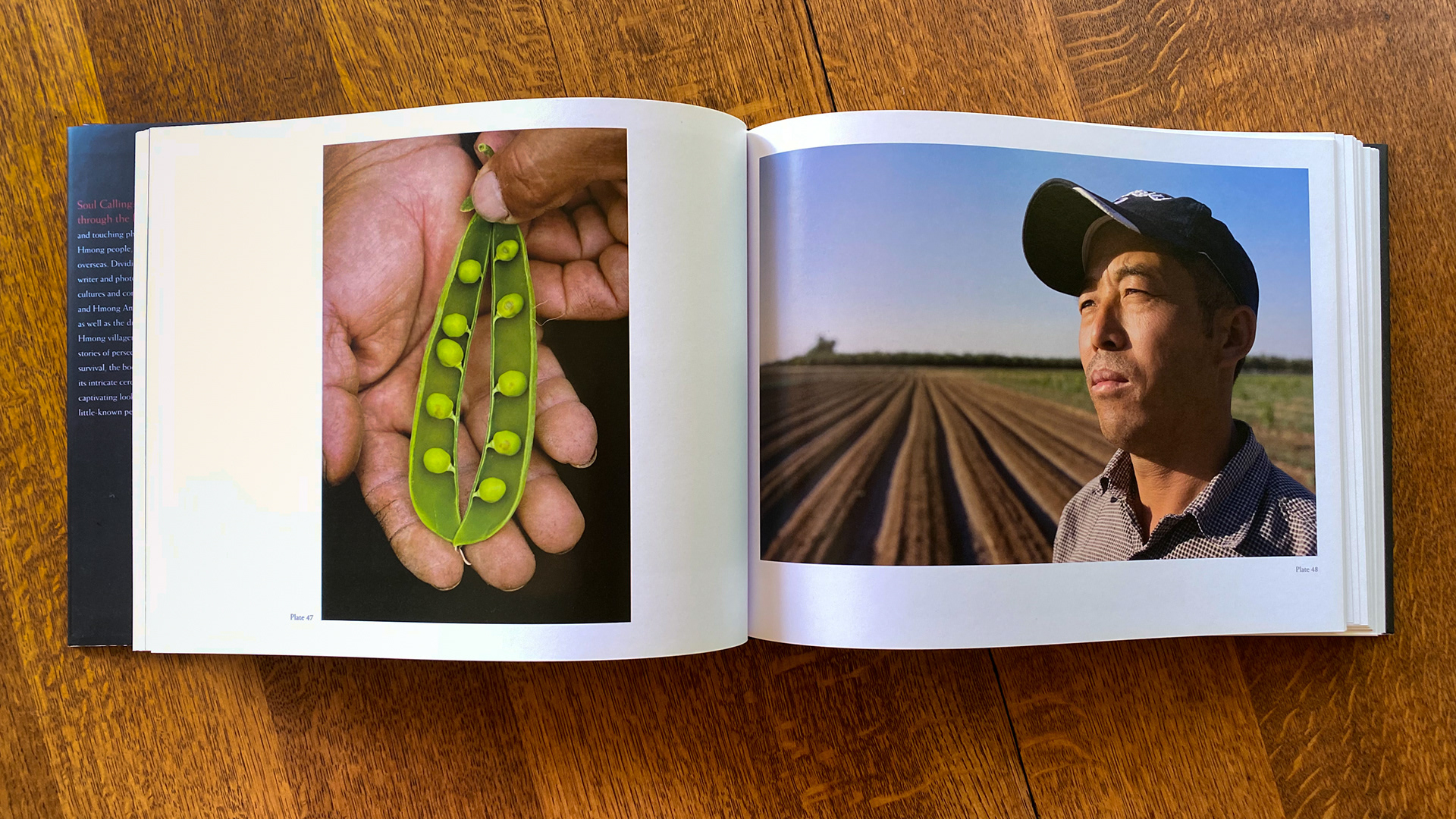 AUTHORS PRAISE 'SOUL CALLING'
"If this book just had one of Joel Pickford's dreamy yet stark photos—let us say the one where the Fresno family mourns the death of the grandfather dressed in his military suit—and just one story—say, the one where Yer Lor Lee, shaman woman, remembers her childhood in Laos and how she could tell if the burning-down bomb was far or near by its long whistling wail—I would kneel down and kiss this book. And I would chase you and tell you that this collection would change your life and fill your heart with love. I am honored to know these stories and see these images of Hmong families, history, and culture. If there is a new America, here it is. A major, major book!"


-Juan Felipe Herrera, two-term U.S. Poet Laureate, Tomás Rivera Endowed Chair, UC-Riverside
"Rarely have the inner and outer lives of a new American population been so starkly, yet beautifully revealed.  Soul Calling takes us into the world of the Hmong, their painful escape from their Southeast Asian homeland and their difficult journey to the United States, traveling across space as well as time, then entering America and the twentieth century.  This is an extraordinary book."
-Gerald Haslam, historian and author of 'Haslam's Valley'
"Every coming to America is an act of defiance. But as Joel Pickford tells us--shows us--in this remarkable book, no journey to America quite matches the Hmong journey for sheer stubbornness. From the highlands of Laos they came, slash and burn farmers with no written language who would not easily give up their ways. From the "stealing" of young brides to the sacrificing of animals to the growing of backyard opium, the Hmong have, indeed, perplexed us. With pen and lens, deftly tracing that headstrong journey, Pickford now shows us what is harder to see: that the Hmong, by clinging so obstinately to their past, have given us our own past."
-Mark Arax, author of 'West of the West' and 'The King of California'

"Joel Pickford's Soul Calling: A Photographic Journey Through The Hmong Diaspora is a meticulous, penetrating, and heartfelt photo-documentary of the first-order. I have long admired Pickford's photographic skill; he has consistently brought insight, a high level of craftsmanship, and a relentless aesthetic curiosity to the challenges of making images. Here, his vision is amplified by a text that supports and expands the story told by the photographs. It is an illuminating, important story. I look forward to introducing Soul Calling to my college students. It will demonstrate to them what can be accomplished when a photographer cares deeply about his subject and is willing to make the substantial personal commitment that long term photo-documentary requires."
-Bill Kennedy, Professor of Photocommunications at St. Edward's University
and author of 'The Photographer's Guide to the Digital Darkroom'
"A spell-binding combination of photographs and text provide a fascinating account of Hmong life in Laos, the long and difficult journey to America, and the challenging resettlement of a recent group of refugees. Pickford's ability with both words and images is inspiring."

-Elizabeth Partridge, author of 'Restless Spirit: The Life and Work of Dorothea Lange'

"Joel Pickford's photographer's eye and poet's ear are exquisite. Through stunning pictures and evocative essays he traces his personal encounters with one of America's most recent immigrant groups, the Hmong. Pickford recreates his experience of their world with intelligence, humor, and fine sensitivity."
-Lillian Faderman, author of  'I Begin My Life All Over: The Hmong And The American Immigrant Experience'


"Soul Calling is a seminal and luminous work that compassionately documents the Hmong American experience in the Dorothea Lange tradition. Pickford's imagery is as lush as his prose, and his insights are deeply personal and thoroughly researched. I found myself fully immersed in fascination and delight."

-Cindy Wathen, co-author of 'Remembering Cesar: The Legacy of Cesar Chavez'

"'Fleeing the tiger to meet the lion,' the Hmong have become our neighbors. Joel Pickford takes us on a keenly observed, compassionate, and beautifully depicted five year and eight thousand mile journey through the experiences of this diaspora people. Traveling from the new Hmong homeland in the Central Valley of California back to their American-bombed homeland of Laos, Pickford shows us through gorgeous photos and words how so many souls have found themselves dislocated. East-west encounters bristle on every page, as the artist meets his Hmong muse, Hmong musicians heal, and Hmong poets remember their history, much as ancient Greeks once did. This volume makes a substantial contribution not only as a work of art but also an original piece of remarkably well written—sometimes heartbreaking, other times humorous—scholarship in the field of diaspora studies."
—Honora Howell Chapman, Dean of Arts and Humanities at California State University, Fresno, co-editor of 'A Companion to Josephus'

"I want to thank Joel Pickford for the journey he has made into our Hmong-American community.  As part of the first generation of Hmong refugees transitioning into American life, I find in Soul Calling an important reflection of our story. Through and outsider's eye, Joel has provided us with insights into who we are, giving us a chance to reflect, reconnect, and rethink this recent chapter in our history.  Joel's pictures further enhance his narrative as he travels among us.  His commitment to and passion for this project is clearly reflected in his work."
-Blong Xiong, former City Councilmember, District One, Fresno, California
"Joel Pickford creates as many remarkable, lucid images with his prose as he does with his lens.  Joel has achieved something rare in documentary photography, removing the perception of his own presence from the frame. And by so doing, he has become a compassionate and egalitarian witness to the previously invisible life of the Hmong."
-Christofer C. Dierdorff, portrait photographer, filmmaker, and director of 'The Tapestry of Life'
"Joel Pickford's photographs eloquently capture the story of the Hmong people as they struggle to make the transition from one culture to another.  His images are moving and powerful, opening a window in to a world few outsiders have ever seen.  Reading Joel's first hand account of his journey is also a very moving experience.  Wonderful!"

-Cara Weston, photographer and coauthor of 'Head In The Clouds: The Photographs of Cara Weston'

U.S. Poet Laureate, Juan Felipe Herrera, picked "Soul Calling" as one of his recommended books for a 2012 L.A. Times feature called "Books The Presidential Candidates Should Be Reading."  Herrera wrote:
"One of the most illuminating, piercing and, yes, soulful, spiritual, let me say human portraits that I have seen of a people — the Hmong — that are part and parcel of our nation, yet I believe not in the center of our attention. Having spent many years in Fresno, I have come to know and partner up with Hmong poets, librarians and community organizers. This book inspires me. Pickford, daring, elastic and patient, with an ethnographer's outside/insider camera-eye and pen, takes us deep into Laos villages and back to California, through exile, death, survival and new life — these are not mere words in the book, they are real-real."